Brooklyn's Championship
As the Atlantic 10 travels the road to Brooklyn, follow the journey right here. Visit us throughout the season to track 14 teams chasing a championship with conference standings, videos and photo galleries. The Atlantic 10 Men's Basketball Championship will be held at Barclays Center from March 9 to 13. To be here when Brooklyn crowns a champion, click here for tickets.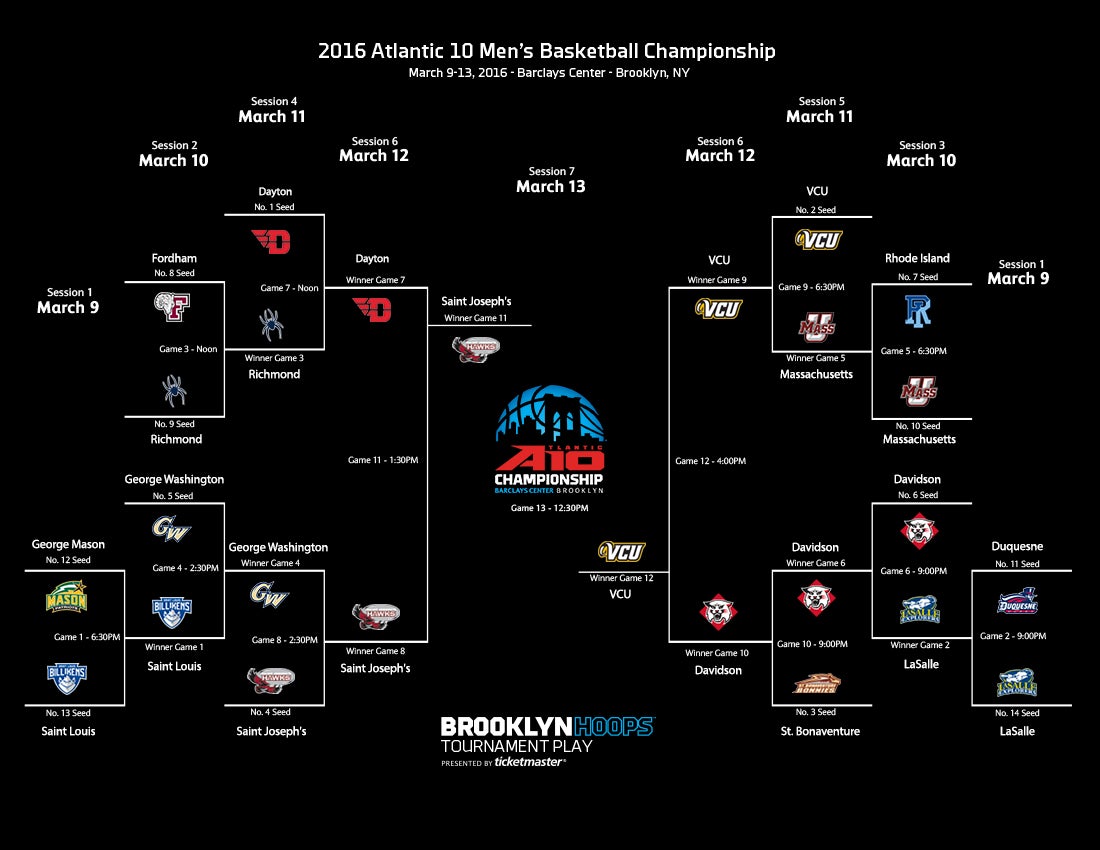 SAINT JOSEPH'S, DAYTON, VCU HEADED TO NCAA TOURNAMENT
NEW YORK, NY - Saint Joseph's, the 2016 Atlantic 10 Champions, and A-10 regular season champions Dayton and VCU were selected for the NCAA Men's Basketball Tournament. All three Atlantic 10 teams will play on Friday, March 18.
FRIDAY SCHEDULE:
Dayton vs. Syracuse in St. Louis, Mo. (12:15 p.m. ET, CBS)
VCU vs. Oregon State in Oklahoma City (1:30 p.m. ET, TNT)
Saint Joseph's vs. Cincinnati in Spokane, Wash. (9:57 p.m. ET, truTV)
It is the ninth straight season the A-10 has earned multiple at-large NCAA Tournament bids, marking the 31st time in the league's 40-year history that the conference received multiple NCAA bids.
Saint Joseph's (27-7) was selected as the eighth seed in the West Region and will take on ninth-seeded Cincinnati in the First Round of the NCAA Tournament in Spokane, Wash. on Friday, March 18 (9:57 p.m. ET, truTV). The Hawks clinched their second tournament berth in three years by virtue of defeating VCU in the Atlantic 10 Championship game. The Bearcats are in the field via an at-large berth.
This is Saint Joseph's 13th postseason appearance, and seventh NCAA Tournament berth under head coach Phil Martelli. Saint Joseph's will make its 21st NCAA Tournament appearance this week; the Hawks are 18-24 all-time in Tournament play.
The Dayton Flyers (25-7) return to the Big Dance for the third consecutive season. UD enters the 2016 NCAA Tournament as a No. 7 seed in the Midwest Region with a match up against the Syracuse Orange on Friday, March 18 (12:15 p.m., CBS). Dayton has won five NCAA Tournament games the previous two years, one of six schools (Kentucky, Wisconsin, Arizona, Michigan State and UConn) to accomplish that feat.