Clubs
The 40/40 CLUB & Restaurant by American Express features upscale traditional American sports bar cuisine, done with a Brooklyn twist. Please call to speak to our reservationists for more information on how to join us for an event at 917.618.6340 or you can email us, [email protected]. We look forward to having you as our guest!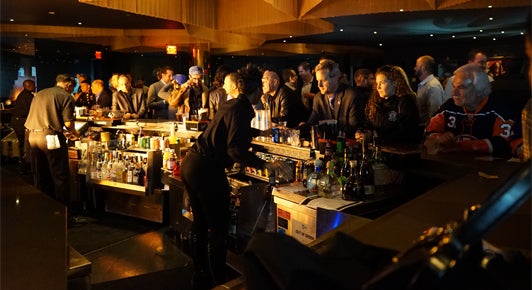 Billboard Lounge amplified by Lightpath
Billboard Lounge amplified by Lightpath is an exclusive, intimate lounge designed to enhance your entertainment experience whether you are at a concert, event, Brooklyn Nets or Islanders game. The intersection of music hangout and club, the space offers guests a unique opportunity to enjoy great music – including occasional live performances – in an environment designed to deliver high-quality sound.
For more information on Billboard Lounge memberships, please call 917.618.6329 or click here.
Calvin Klein Courtside Club
The Calvin Klein Courtside Club sets the new standard of luxury. Located on the event level, directly outside the Brooklyn Nets locker room, you can cheer on the home team as they enter and exit the court. From the wall-mounted flat-screen televisions, to the elegant dining experience and sleek bars, you'll know from the minute you set foot inside that you're a part of a championship franchise.
Honda Club
Located directly above Sections 15 through 17, the Honda Club is perfect for group outings of any size. With an expansive view of the arena, this wide-open space offers a private area for 40 to 60 people with direct access to the Honda Club bar. Domestic beer service is included with group reservations, along with a dedicated buffet selection. When not booked for group events during Nets games, the Honda Club is accessible to All Access ticket holders seated in Sections 15 through 17.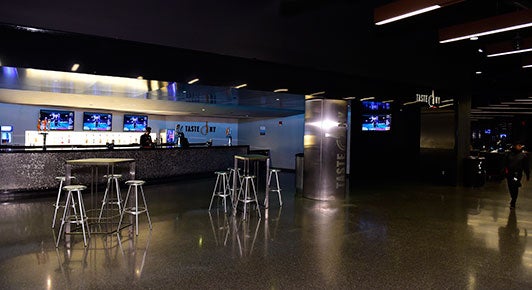 Taste NY Bar
The Taste NY Bar brings the beverages of New York State to Barclays Center. Located just inside the GEICO Main Entrance and Atrium, it's the perfect place to meet up with friends joining you at a game or concert. The Taste NY Bar is outside Section 31 on the main concourse. Sample the best of New York with beer, wine, ciders and spirits direct from the state's craft beverage producers.
Ticketsnow Club/Infor Lounge
These twin clubs on the opposite ends of the arena are the most expansive at Barclays Center. All-Access Ticket holders can enjoy their diverse food offerings and bars at these clubs.
Brooklyn-based vendor?
We're always looking for Brooklyn-based food and beverage vendors to be considered for future opportunities at Barclays Center. For more information, click here.