Atlantic 10 Announces Impressive Basketball Legends Class
Feb 29, 2016
NEWPORT NEWS, Va.- The 2016 Atlantic 10 Legends class, which features seven All-Americans, 11 professional players and 21 institutional Hall of Fame members, was announced Wednesday.
The Legends program was established in 2013 to recognize men's and women's basketball student-athletes and coaches who have made a lasting impact on their respective basketball programs and institutions. This year marks the fourth class the Atlantic 10 has inducted. Each year, A-10 member institutions select their two Legends. Previous honorees have included Basketball Hall of Fame members, national champions, Olympians, and professional players.
"It is an honor for the Atlantic 10 to recognize the accomplishments of the 2016 Legends Class," stated A-10 Commissioner Bernadette V. McGlade. "Their significant contributions to their institution, teams and to college basketball have made a lasting impression. A well-deserved congratulation is in order for this outstanding group of individuals."
The Women's Basketball Legends will be saluted with a breakfast on Friday, March 4 prior to the 2016 A-10 Women's Basketball Championship quarterfinals. The event will take place at the Richmond Marriott beginning at 9:00 a.m.
The Men's Basketball Legends will be honored on Saturday, March 12 at Barclays Center in Brooklyn, N.Y., prior to the 2016 Men's Basketball Championship semifinals. The celebration awards brunch will be in the 40/40 Club, beginning at 11:00 a.m.
The 2016 Men's Legends class features 13 former student-athletes and one coach. Of the honorees, 10 went on to play professionally in either the NBA or overseas. The group also includes four All-Americans, two former NBA Executives, one NBA All-Star, and one Wooden Award Winner and Naismith National Player of the Year. In addition, 12 of the men's legends are in their respective institutional athletics Halls of Fame.
The 2016 Women's Legends, all former student-athletes, including one who also served her institution as a head coach, led their teams to conference championships, NCAA Tournament selections and WNIT appearances. The group includes all-conference honorees, an academic All-American and nine individuals who have been inducted into their institutional athletics Hall of Fame.
A limited number of brunch tickets are available to the general public. For more information, please contact the Atlantic 10 Conference at 757-706-3052.
PLAYER OF THE WEEK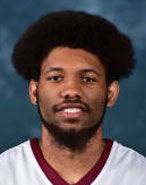 DeAndre' Bembry, Saint Joseph's
Junior | Forward | Charlotte, N.C.
Bembry, a forward from Charlotte, N.C., averaged 22.5 points, 8.5 rebounds and 5.0 assists in two wins for the Hawks. He shot 67.9 percent (19-for-28) from the field and added five steals and two blocks in the two victories. He had 18 points and nine rebounds in win at UMass as the Hawks ran their road record to 10-1, shooting 8-for-12 (.667) from the field. Bembry then scored a game-high 27 points, had eight rebounds and six assists in win over Saint Louis as the Hawks moved into a first-place tie. He scored 19 points in the second half as Hawks pulled away and sealed the win, making 11-of-16 (.688) from the field. It was his seventh 20- plus point game of the year and 23rd of his career. The Player of the Week award is his second of the 2015-16 season.
ROOKIE OF THE WEEK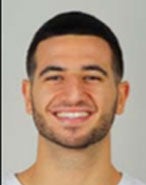 Joseph Chartouny, Fordham
Freshman | Guard | Saint-Hubert, Quebec
A forward from Saint-Hubert, Quebec, Chartouny averaged 17.5 points, 5.5 rebounds and 8.5 assists in two Fordham wins. He netted a season-high 24 points and added a season-best 13 assists in 91-82 win over Davidson, shooting 7-for-13 (.538) from the field while adding three steals. He netted 11 points and added four rebounds and four assists at La Salle, setting a Fordham freshman record with 132 assists on the year. The award is his sixth Rookie of the Week honor of the year.
WEEKLY HONOR ROLL
Peyton Aldridge averaged 20.5 points in a split week for Davidson, including 24 points on 4-of-6 3-pointers in a win over Rhode Island ... Dayton's Dyshawn Pierre had a 17-point, 11-rebound double-double against Rhode Island and also grabbed 11 boards in the win at Saint Louis ... Ryan Rhoomes had an 18-point, 12-rebound double-double with four blocks in the win over Davidson ... George Mason's Shevon Thompson, had back- to-back points-rebounds double-doubles, tallying 17 and 12 in the win over VCU and 14 and 15 at La Salle ... Mason freshman Otis Livingston II averaged 14.5 points, 4.5 rebounds, 3.0 assists per game in a split week for the Patriots ... Jordan Price scored 24 points in La Salle's win over George Mason after a 13-point, three assist, three block performance against Fordham ... Rhode Island's Jared Terrell averaged 15.5 points, 3.5 rebounds, and 2.0 assists in a 1-1 week with a game-high 18 points to go with three assists and two steals at Dayton ... Terry Allen recorded 25 points with eight rebounds and four assists in a win at Duquesne while shooting 14-of-22 (.636) from the field and 10-of-12 from the line in two games last week ... St. Bonaventure's Dion Wright scored 21 points and grabbed 11 rebounds for a double-double in the win over UMass after a 15-point, eight-rebound performance with two blocks and two steals in a win over Duquesne ... Saint Louis freshman Jermaine Bishop scored 15 points with three assists at Saint Joseph's ... VCU's Melvin Johnson tallied 24 points with four rebounds, four assists and four 3-pointers against George Mason.