BROOKLYN NETS AND NEW YORK ISLANDERS SALES TEAMS GROW BY 1,900 SELLERS
Jul 1, 2015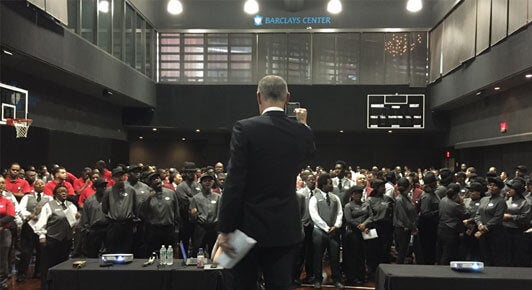 BROOKLYN (July 1, 2015) – Barclays Center has launched an Employee Referral Program for its 1,900 arena employees to promote season ticket sales for the Brooklyn Nets and New York Islanders.
With 80 percent of its employees residing in Brooklyn, Barclays Center is encouraging staffers to serve as sales representatives in their communities by providing referrals for potential ticket buyers for the borough's two major professional sports teams.
Employees who make a successful referral will be rewarded with cash rewards, and will be entered into a raffle to win larger prizes including a season ticket package and a cruise. Brett Yormark, CEO of Barclays Center and the Brooklyn Nets, tipped off the initiative yesterday at Barclays Center with a rally for the employees on the Barclays Center Practice Court.
"Most of our employees are proud Brooklynites who strongly support our teams," said Yormark. "This program vests them in the arena's success."
The Employee Referral Program comes on the heels of the Brooklyn Nets Neighborhood Day last Wednesday when more than 100 Nets front office employees took to the streets to launch the team's sales and marketing campaign.