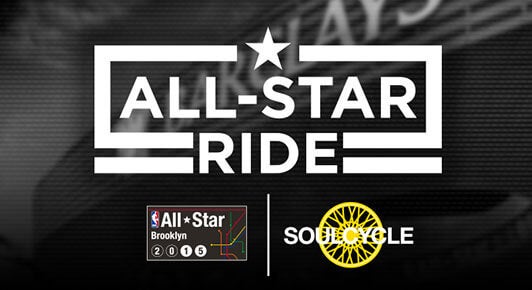 THE BROOKLYN NETS AND SOULCYCLE HOST ALL-STAR RIDE AT BARCLAYS CENTER
Feb 13, 2015
BROOKLYN (February 13, 2015) – The Brooklyn Nets and SoulCycle, the premier indoor cycling studio, are teaming up to host All-Star Ride at Barclays Center TOMORROW, Saturday, February 14 from 8:30 a.m. to 9:30 a.m. in the GEICO Atrium. The class of 150 riders will be led by SoulCycle Senior Master Instructor Stacey Griffith, marking the first-ever SoulCycle class held in a major arena. The music for the event will be curated by Republic Records and merchandise will be provided by adidas.
In a celebration of NBA All-Star 2015 at Barclays Center, this invitation only fitness event will include celebrities, NBA legends, professional athletes, top sports, entertainment and media industry executives, as well as teens from the Brooklyn USA basketball program.
The NBA All-Star events at Barclays Center begin on Friday, Feb. 13 with the league's top rookies and second-year players participating in the BBVA Compass Rising Stars Challenge. On Saturday, Feb. 14, Barclays Center will host the State Farm All-Star Saturday Night, including NBA Shooting Stars, Taco Bell Skills Challenge, Foot Locker Three-Point Contest, and Sprite Slam Dunk. Programming in Brooklyn on Sunday, Feb. 15 includes NY Heroes: Bravest vs. Finest, a new exhibition game featuring men and women from the FDNY and NYPD, the NBA Development League All-Star Game presented by Kumho Tire, and the NBA Development League Dream Factory presented by Boost Mobile.